WHAT CLIENT'S SAY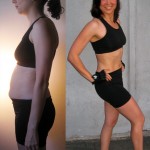 Lizette
Lizette originally came in to see me with a number of issues. Her neck and back posture needed work – something very important to her, along with building strength, muscle tone and confidence in the gym. A couple times a week & in two months, lizette regained good posture – looking much more confident, gained a lot of strength, didexercises she never thought she would be able to do.. And more importantly, really enjoyed working out!
The after picture on the left is a testament to how her dedication led her to achieving fantastic results. A super star client!
"I've worked with James since 2011. I'm a 30 something woman and I had zero gym experience when I started working with him. He helped me feel really comfortable using all those crazy weight machines for the first time. He encourages you to push yourself, and he's so great you want so much to please him :), but he doesn't yell or get in your face about it.  He watches carefully as I work out, making sure I'm in the proper position so I don't hurt myself, and ensuring I don't form a bad habit that can lead to injury later. (I started working with him because of back trouble — he was super careful about making sure my back was safe). Some trainers know how to use machines properly and they're super fit, but they're not teachers — they don't have the patience or the ability to put themselves in a student's shoes (particularly beginners). James is super knowledgable and knows how to teach. Rare combination. Seattle – 1, LA – 0! I wholeheartedly recommend him!!!"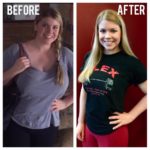 Stephanie
James is awesome! I've been training with him since late August and have lost 40 pounds in that time/4 months (I've been eating clean, but literally the only exercise I do other than random hikes or skiing is my 2x per week workouts with James). Using a personal trainer keeps me accountable, and what I love about James is how flexible he is – I travel for work and he's willing to train super early before my flights. He's also always willing to move sessions around to accommodate when I'll be available, sometimes even at the last minute. He's also really good about listening – I feel really comfortable telling him if something doesn't feel right and we make adjustments (not like other trainers with the "no pain, no gain – power through it" philosophy); I know that I won't hurt myself when working out with him. On top of it all, he's just a really nice guy and we have interesting conversations that make the workouts go really quickly. Bottom line; if you're looking for someone who knows their stuff to keep you accountable, give James a call!